Steven and Adeola: Leveraging tech to produce beautiful imagery
A picture is worth a thousand words. As a result, lots of young people in Nigeria are going into the business of photography.
With the high numbers of social and business events taking place in the country, lots of entrepreneurs now leverage technology to build rich and diverse collection of imagery for customers.
Let us look at two of them.
Adeola Abdulrasheed
Adeola Abdulrasheed is the founder of Cameraman.ng, a start-up that connects users to professional photographers and videographers within their locality. He is a UI x UX designer and photographer.
Adeola was inspired to establish Cameraman.ng out of his passion for capturing memories. While still an undergraduate, he built D'AwareImages to capture existing memories in school. As a result of its success, he was inspired to venture into photography.
"I started and successfully built D'AwareImages while still in school because I love to capture memories.0 This developed my interest in photography," he tells Start-Up Digest.
After his tertiary education, Adeola picked up a job in photography. He succeeded in acquiring skills, rompting him  to establish Cameraman.ng in 2017.
The graphics designer started his business with N200, 000, an amount he was able to raise from family and friends. After few months of starting, he won €1000 in the Co-Creation Hub Next Economy Acceleration Programme challenge.
The Yaba Tech graduate tells Start-Up-Digest that he used the money to further expand the business and develop its scope in the Nigerian photography market.
The young entrepreneur says that despite the large numbers of already established talents in the country's photography business, Cameraman.ng has been able to create a niche market for itself by leveraging technology, stating that the business has continued to grow since starting.
"We outsmart our competitors by leveraging technology to deliver photography services with the fast automated booking system and affordable packages for all categories of customers using reliable professional photographers and videographer," the young entrepreneur says.
Speaking on how the platform connects users to photographers and videographers across the country with just a click, Adeola says, "Cameraman.ng instantly matches you with professional photographers and videographers with just a few clicks around your locality."
"We have made the platform easy and affordable to users who are willing to capture and record every beautiful moment of their events," he explains.
On how the photographers and videographers are selected by the organisation, he says, "For the photographers and videographers, we have created a form that allows us to vet them and know who is fit for the platform because we have pledged to give our users the very best. We also invite them to a physical meeting to get a better knowledge of who they are and their personalities."
Answering questions on the challenges confronting the business, he says that funding remains the major challenge confronting the business, noting that a lot of youths with entrepreneurial skills are limited because of the absence of funds to see their ideas to fruition.
He adds that the country's huge infrastructural gap is also another challenge facing his business, urging the government to provide key infrastructure such as power, good road network, good and affordable office spaces and forums for learning and collaboration, especially for start-ups.
Adeola further says that his business plans to expand its solutions across the continent.
 "We are all about capturing irreplaceable moments. Of course, everyone has a day in their life they want to capture forever, so we want to capture it for them at a great price."
The entrepreneur believes he currently works with an 'amazing' team that has brought the business to its current position, among whom are Ademosu Adetutu, who has seven years' experience in brand design; Abdulazeez with vast knowledge in technology, and Bosun Tijan,i who is their mentor.
On his advice to other entrepreneurs, Adeola says, "Your mind is a soil: what you plant grows. So, always push yourself to the limit and you would realise you can still push further. Never stop; keep on keeping on."
Steven Nwadike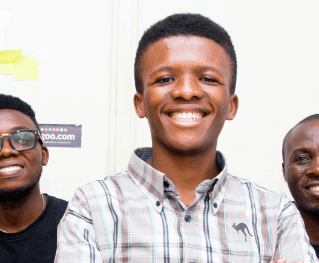 Steven Nwadike is a co-founder of Tringoo, a technology start-up that connects users to vetted professional photographers.
Steven, who spent his early years in Aba, Nigeria's entrepreneurship hub, was inspired by his parents and his environment to become an entrepreneur at an early age.
"I have always been keen and interested in business from my early childhood. I used to accompany my dad to his shop in Ariaria International Market every Saturdays. I also assisted my mum in managing her restaurant after returning from school," Steven says.
While an undergraduate, Steven co-founded his first tech business with other partners to provide digital solutions to students on campus.
After graduation, he took entrepreneurship classes at Seedstarts Academy in Lagos to deepen his entrepreneurial skills.
Upon graduation from his entrepreneurship class, he studied the business model of Uber and decided to replicate it on a different market. This prompted him and some friends to establish Tringoo in 2018.
"I started the business alongside three of my founding team: Zenith Wogwugwu, Dominion Effiong and Ehma Ugbogo in January 2018," the Computer Science graduate says.
Steven tells Start-Up-Digest that he started his business with the money he and his cofounders got from their personal savings. He says that after two months of operation, Tringoo got a grant of N250, 000 from the British Council, an amount that has been used to further grow the business.
Currently, the four co-founders are building the business with a bootstrapped budget.
Since starting, the business has grown in its six months of operation.
"We are now having more jobs weekly compare to the jobs we used to have before. Ninety percent of the jobs we get are referrals from clients who have used our platform before," he says.
The young entrepreneur says that the biggest challenge confronting his business is the country's difficult operating environment. He notes that huge infrastructural gaps have continued to drive the cost of production, making it difficult for businesses to survive.
 He also identifies lack of mentorship as a major challenge affecting his business, saying that most of the people he has approached for mentorship are too busy to operate in that space.
Steven further points at lack of adequate finance as one of the big challenges hurting his business. "Nigerian investors expect early-stage start-ups to earn six digits revenue monthly before they invest in them. Most of the investors do not want to take a risk with start-ups until such businesses have attained massive traction," he states.
He calls on the government to create an enabling environment to increase the survival rates of businesses in the country. He urges the government to make huge investments in the country's power sector, noting that no economy can grow with adequate power supply and infrastructural facilities.
Steven also urges the Federal Government to provide more funding for entrepreneurship, noting that a lot of ideas are yet to be realised owing to inadequate finance.
Answering questions on some of the business expansion plans, Steven says,   "We are planning to have a physical presence in five major cities in Nigeria by next year and then in two years' time expand to Ghana, Kenya and South Africa. With regard to product development, we are already building and testing some key features that will benefit both the photographers on our platform and our customers."
He explains that the tech sector can help in diversifying the country's economy.
"The technology industry is already playing a major role. Many technology hubs are springing up in the country and the tech ecosystem is growing tremendously.
"Technology is no longer acting as an enabler but now as a major sector that has the capacity to turn the Nigerian economic situation around. A lot of foreign investors are already investing in some big start-ups here in Nigeria. This is a sign that the technology space is going to play a key role in the diversification of the Nigerian economy," he further says.
On his advice to younger entrepreneurs, he says, "Execution is everything. Always keep building, test it fast in the market, learn and re-strategise."
 "Seek partnerships from the right people. It is critical to the success of any business," he adds.
     Josephine Okojie